We Can Help Make Party and Event Planning a Little Easier for You!
---
We have the experience to help coordinate the details that bring your event together.
Whether you're organizing your wedding, a business party or your child's graduation celebration, it's the details like tables, chairs, tents, and linens that tie the catering and the venue together. As an established event company for the metro Detroit area, Kosch Catering has an extensive network of event suppliers. Between serving great food, helping you find the perfect location and reminding you of the little things, we help take the stress out of planning your event in Michigan.
Our Michigan Catering Services Include Help with Event Planning!
With more than 35 years of experience, the Kosch Catering event specialists understand that catering and event planning go hand in hand. For this reason, if you need suggestions for who to rent chairs, chair covers, tables, linens and tents from, we can be your biggest asset. It's all part of what makes Kosch Catering the best wedding catering company in SE Michigan!
For example, by coordinating our top-notch catering services with your venue selection, we can help make sure the location you choose is able to accommodate the needs of your guests and is in line with the type of party you want to have. We consider parking, accessibility, electricity, hours of operation and time of year your party will take place.
Planning a Party and Don't Know Where to Start? Contact Kosch!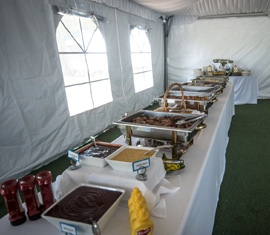 At Kosch Catering, we understand that not everyone has a clear idea of what to do for their next big event. By listening to your basic goals and brainstorming ways to put them into practice, our event specialists can quickly come up with a comprehensive plan for your party.
---
For more information or to begin making a plan for your Michigan event, contact Kosch Catering today.