A Meal to Remember: Party Catering Menus for Your Michigan Event
---
From showers to holiday celebrations, every party has its own unique theme and your food should reflect it.
The more your party food reflects that theme, the more fun and sophisticated your event will be and the better your guests will remember it. Kosch Catering offers an extensive selection of party menu ideas for any celebration. As the leading provider of event menus in Michigan, we offer Metro Detroit area residents a wide variety of foods and serving options, so you can match your theme and your catering with ease.
Need an Amazing Event Menu for Your Michigan Party? We Have Them!
With more than three decades of experience serving a wide range of different parties, meetings and celebrations, Kosch Catering has no trouble putting together a menu that meets your specific needs. Our team not only knows how to match your party's theme and your guests' favorite flavors, but also to account for moral, cultural, and health restrictions. We aim to create menus that are not only safe and respectful for all of your guests, but that every guest will thoroughly enjoy eating.
Theme Party Menus- We Can Tailor Our Menu to Match Your Party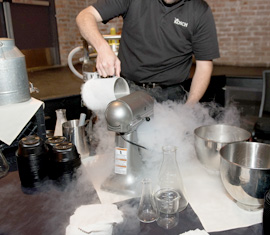 Kosch Catering strives to give you as many options as possible for your next party. Our party menus contain a myriad of delicious foods, ranging from tried-and-true staples like burgers and fruit to unique pastries, cakes, and casseroles. With such a large selection of dining options, you should have no trouble putting together a menu that matches your exact theme.
The Kosch team understands that food presentation is every bit as important as food selection, both for keeping with your party's theme and for creating an enjoyable experience overall. So, in addition to providing countless different food options for your event, we also give you a range of serving choices. Whether you would prefer to serve these foods from a buffet line, as appetizers, or at a table, we will be happy to distribute them exactly the way you want. This gives you full control over the dining atmosphere, allowing you to choose more formal or casual serving options according to the needs of the event.
The Best Party Food Begins with Simple & Tasty Appetizers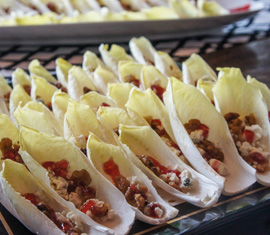 Appetizers don't just tide over hungry guests; they set the stage for the entire meal! The better and more varied your appetizers are, the more confident your guests will be that they will leave the event full and satisfied. Kosch Catering offers a broad array of appetizer options, and pays as much attention to health, cultural, and moral concerns as we do with any other course. By planning the appetizers and other dishes carefully, we make sure all the flavors complement each other, setting the stage for unrivaled deliciousness.
---
For more information on our Michigan event menus, contact Kosch Catering today.