Catering for Your SE Michigan Wedding: Wedding Menu Ideas for Any Venue
---
Kosch Catering gives brides-to-be more options!
Weddings mark the beginning of an exciting new chapter in your life, so, why not start that chapter off with a meal to remember. Kosch Catering offers extensive wedding menus for every variety of Michigan wedding ceremony. We cater to parties both large and small, and can adjust for any venue, health issue, or dietary restriction. With quality Michigan wedding catering from Kosch, you, your new spouse, and all your friends and family can have the time of your lives on this big day!
Amazing Michigan Wedding Menus for Any Venue
When planning a wedding, catering and venue selection go hand-in-hand. The venue you choose affects what kinds of foods you can serve, as levels of humidity, temperature, and exposure to the elements can all change the taste of foods and the ease with which you can serve them. Likewise, the food you choose may change what venues are appropriate, as certain locations cannot handle stains from specific foods.
By combining catering with venue selection, Kosch Catering gives you full flexibility for your big day. We listen to all your desires for what to serve at the wedding and where to hold it, and find a venue that will work for the foods you have requested. We also have the equipment and skills to protect your food from humidity and temperature changes and the venue from stains and spills. With our help, you should have no trouble fulfilling all your desires for venues and catering.
We Have the Perfect Menu for Your Outdoor Wedding!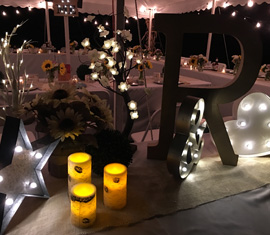 Outdoor weddings are particularly challenging, as they expose your food directly to weather, bugs, and other threats. Kosch Catering has no shortage of wedding menu ideas for the outdoors, serving foods that remain safe and delicious no matter how long they stay outside. We offer the equipment to keep that food at the perfect temperature, as well as serving staff who can protect it from any threats. Through these and other services, we can throw you an outdoor celebration that is every bit as enjoyable and safe as an indoor one.
Heavy Apps, Buffet, Family Style, or Tray Catering- We Do It All!
Depending on what foods you want, where you will be serving them, and your personal tastes, you may opt for a buffet, table service, or any number of other catering options. Kosch Catering is happy to provide all of these options, both individually and in combination with each other. As you select the wedding menu ideas for your big day, we will let you know our options for serving each of them. You can then choose the service method you like best as well as the order in which you would like your food to be served.
---
For more on wedding menu ideas and serving options, contact Kosch Catering today.