Unique Catering Menus For Your Next Big Party in Michigan
---
When planning an event, few factors are more sensitive than food selection.
At Kosch Catering, we will work with you to handle any event, large or small. We work on large weddings and corporate events, but also backyard BBQs, graduation parties, family reunions, and much more. Depending on the size of your event, we offer offsite catering, drop-off catering, tray service, buffet lines or our staff can stay behind to prepare and replenish food. We can provide bartenders and other staff as well as linens and supplies.
When you contact us, we'll discuss the details of your event and work with you to select from our existing menus or develop a custom offering that works for you. Whatever the size or scale of your event, we'll provide an experienced team that will deliver delicious food that your guests will absolutely love.
Flexible Catering Menus Your Guests Will Love!
Kosch Catering strives to make our menus as flexible as possible, preparing for:
Health Issues; From peanut allergies to diabetes and more, your guests may have any number of health issues that limit what they can eat. We are happy to recommend items that will ensure that everyone can eat their fill.
Cultural, Moral & Religious Issues; Certain religions have complex dietary restrictions, and even guests who are not religious may want to avoid particular foods for moral or cultural reasons. Our team can adjust for all these factors in selecting foods.
Food & Beverage Catering for Outdoor Events Throughout Southeast Michigan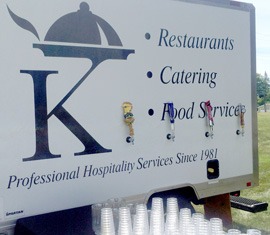 By providing easy access to weather shelters, we keep you and your guests safe and dry during even the most severe and unexpected storms. Likewise, we offer the serving equipment necessary to protect our food from changes in temperature and humidity, allowing you to enjoy our dishes under any conditions.
We Have Breakfast & Lunch Menus for Your Party, Shower or Corporate Meeting
From corporate events to wedding and baby showers to birthday parties, delicious catering is one of the best ways to enhance a morning or noon event. Our team can provide fruit, pastries, egg dishes, sandwiches, and countless other lunch catering and breakfast catering options. We are happy to do themed dishes for special events and can provide enough food for everyone who attends to be fully satisfied.
---
With the right catering, even the smallest events can be memorable. For more information on food for your next party or meeting, contact Kosch Catering today.